Wagner & Co Solar Package now top flight with both leading independent German consumer organizations
In a current test by the consumer magazine Ökotest, the solar heating package SH 1440 AR by Wagner & Co had the highest solar coverage and was one of only two systems rated "excellent".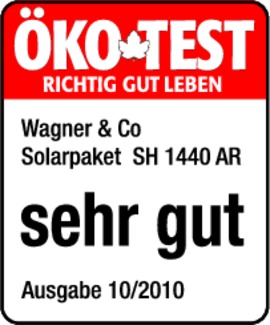 Cölbe, Sept. 27, 2010. Ökotest analyzed 17 solar space heating support installations from renown manufacturers. The results are published as an article titled "Schön warm hier" ("Nicely warm here") in the October issue of the magazine (Ökotest 10/2010). Among the only two systems that received the overall grade "excellent" was the solar heating package COMBI line SH 1440 AR.
"In terms of the pure system the front runner is the Wagner COMBI line SH 1440 AR on-roof, that […] receives an "excellent" overall rating.
The Wagner system achieves the highest yield, and thanks to the still relatively moderate price it is one of the most economical in the test." (Ökotest, 10/2010)
In another comparative test of solar DHW systems already published in the September issue (09/2010), only the Wagner & Co system had been identified as "excellent". In an impressive way the repeated top position once again confirms the German solar pioneer's continued dedication to the quality of its well engineered systems.
30 years of experience rewarded
Wagner & Co and its products took leading positions ever since independent institutions began with tests of solar installations. Two of the pivotal characteristics regularly were highest solar yield and excellent cost-benefit ratios. Already in 2009 the solar package SH 1440 AR was chosen as the test winner among solar heating installations tested by the Stiftung Warentest – the other leading German consumer organization.
Now the same system of the solar specialist Wagner & Co touched down on the pole position with Ökotest. Just as before the up-to-date test confirmed: the solar heating package by Wagner & Co utilizes the sun most efficiently. On average it saves 30% of the energy required for hot water and space heating. It therefore is the only installation receiving a 1.0 for the criterion "solar faction". Especially in face of rising energy costs, the user hence is guaranteed a cost effective investment.
With its optimally fine tuned components Wagner & Co once again delivers proof of the highest quality standards, strengthening its position as one of the market leaders in Europe.
The complete test can be read (in German) at http://www.oeko-test.de where it is also available for download for a fee of 2 Euro.
Free publication and reprint;
Attribution: wagner-solar.com Or Wagner & Co, Cölbe, Germany
In case of publication, please be so kind and provide us with a link or a specimen copy to:
Wagner & Co Solartechnik GmbH
Sandra Christiansen
Zimmermannstraße 12
D-35091 Coelbe